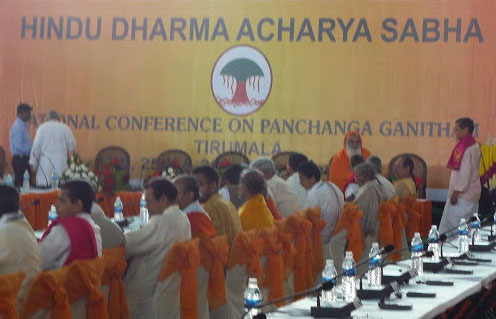 Aeon Centre of Cosmology's Director, Patrizia Norelli-Bachelet, was invited to speak at the First National Conference on Panchanga Ganitam in Tirumala, Andhra Pradesh, India, 24-26 December 2010. She spoke on the topic of 'The Importance of Makar Sankranti in Hindu Calendar Reform', presenting the position that the Tropical Zodiac is the 12 month year used by the ancient Vedic civilisation and that the Nirayana or constellational system in use throughout most of India is an error born of science:
'[S]cience introduced the idea that there had to be a separation between rasis and the fourfold measure of the ecliptic plane where the planets including Earth circumambulate the Sun – that is, a separation between the Equinoxes and their corresponding zodiacal signs, Aries/Mesha and Libra/Thula. This is an aberration that persists until today. In the effort to be 'scientific', given the predominant role of astronomy when it became separated from astrology, the method of time reckoning of the ancient world, including Vedic India, was discarded in favour of the new model based on the contemporary discipline, astronomy.'
She alerted the panel and audience that some 60 temples in Tamil Nadu had just correctly celebrated Makar Sankranti, or the entrance into the sign of Capricorn (Makar) on the Winter Solstice of 2010 instead of 23 days late as per the Nirayana system.
---
Panchanga Ganitam Conference Photo Album
---
---
Links: